FLV Downloader

Introduction
FLV Downloader is specifically designed to address two of the biggest problems when downloading flv Vdieo files: Speed and Management of downloaded files.
If you've ever waited forever for your files to download from a slow connection, or been cut off midway through a download - or just can't keep track of your ever-growing downloads - FLV Downloader is for you. FLV Downloader can split downloaded flv files into sections, downloading each section simultaneously, for an increase in downloading speed from 100% to 500%. This, coupled with FLV Downloader's powerful and easy-to-use management features, helps you take control of your downloads like never before.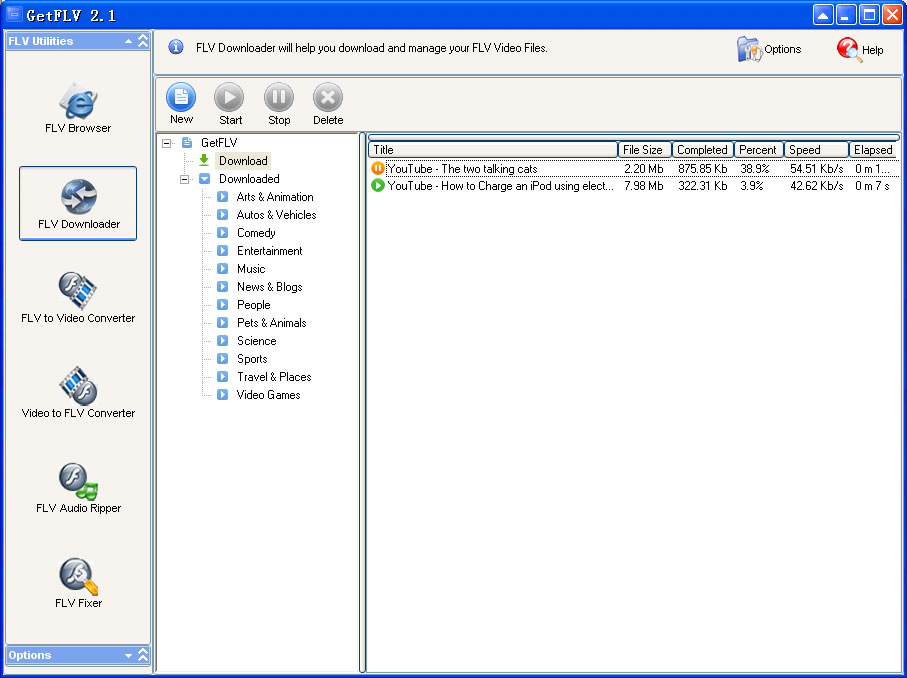 Speed
FLV Downloader can automatically split files into sections or splits, and download each split simultaneously. Multiple connections are opened to each file, and the result is the the most efficient exploitation of the bandwidth available. Whatever your connection, FLV Downloader makes sure all of the bandwidth is utilized. Difficult, slow downloads that normally take ages are handled with ease. Download times are drastically reduced.


Management
FLV Downloader is capable of creating unlimited numbers of categories for your files. Download jobs can be placed in specifically-named categories for quick and easy access. The powerful and easy-to-use management features in FLV Downloader help you take control of your downloads easily.

The FLV Downloader Menu

Category:
New Category... Create a new download category. FLV Downloader allows the creation of unlimited categories.
Rename... Rename the selected category.
Delete Delete the selected category.

Dowloading Job:
Start Start downloading.
Pause Pause downloading.
Delete Delete selected job(s).
Rename Title... Rename the tiltie of downloading Job.
Add new FLV Url Add new FLV download Job.
Copy URL to Clipboard Copies url of selected downloading FLV to clipboard.

Downloaded Files:
Delete Delete selected downloaded file(s).
Copy URL to Clipboard Copies url of selected downloaded FLV to clipboard.
Export Export selectd downloaded file(s) to special folder.
Play selected FLV Play selected FLV with defaut FLV Player.
Find Target File Open an explorer and locate the selected downloaded file.